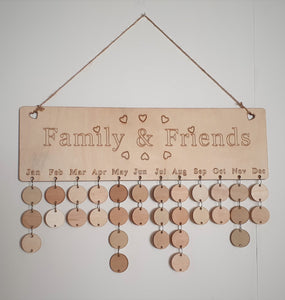 Harvestmouse
Family and Friends Special Dates Hanging Board.
Regular price
£10.00
£0.00
NEVER FORGET A BIRTHDAY OR ANNIVERSARY AGAIN ! 
Keep track of family and friends birthdays and anniversaries with this wooden calendar.
It measures 40cm x 12cm and comes complete with thirty circular discs for you to record the date and name of the occasion you wish to remember. Write it on the disc and hang it on the appropriate month.
A useful tool for busy people !